by

lexie

Jan 24, 2014
0 comments
It is almost that time of year. No, not quite spring, but Girl Scout Cookie Season! The cookies and the young women selling them pop up faster and more frequently then the early blooming crocus. For me, they are the harbingers of warmer weather. I used to buy boxes and boxes of them and since going gluten free,  I have missed gorging myself on them for about one month a year. Well, times, they are a changin'....
In 2013–14 cookie season, ABC Bakers, one of two companies that produce the cookies, is conducting a limited release of the first ever, gluten free Girl Scout cookie. It will be a Chocolate Chip Shortbread Cookie and will only be available in 20 test markets. In addition, the cookie will be sold at booth sales only, rather than featured on the order card.
ABC Bakers is on record as saying, "We believe that everyone should be able to support the Girl Scout Cookie Program. So we've developed a delicious new bite size Girl Scout cookie that's 100% gluten free – and we're welcoming a whole group of people to the cookie sale. Since it's estimated that three million people follow a gluten free diet, ABC and our council partners expect this cookie to be a huge success."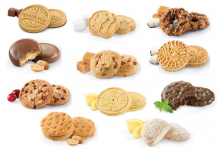 Some quick facts on the bite-sized, huge leap forward cookie:
Is made with real chocolate chips and real butter
Contains no artificial flavors, no artificial colors, no high fructose corn syrup, no palm oil, and no hydrogenated oils
Is available in a 5 ounce resealable foil pouch with 12 pouches per case

Click here for more details on the ingredients and nutrition information.
Click here to view a list of the 20 test markets.