by

lexie

Nov 14, 2016
0 comments
If you are a gluten free consumer living in this fair state of Colorado, you might have seen Kathy and I at a local food show like the Incredible Edible Gluten Free Fair, taken a gluten free cooking class from us, or encountered us at a Celiac Sprue Association meeting or other educational events. If you know us, you know we love to share our love of food and gluten free living with everyone we meet.
Many of our customers know Cheatin' Wheat is Colorado-based, women entrepeneur company that sells gluten free dry mixes and other delicious gluten free products in retail settings. For example, our line of mixes is carried by 11 Whole Foods locations throughout the Denver area and you may have seen us at a store near you doing demos. In addition, Ink! Coffee and Tony's Markets carry our gluten free muffins and gluten free whoopie pies. And yes, you can buy gluten free flour and other products directly from us!
However, what you may not know is that serving restaurants and other food service businesses is the bulk of our, well, business. And, we are expanding! Not only have we released some great new finished products, our wholesale food show season is in full swing. It seems like Fall, specifically November, is our busiest show time of the year.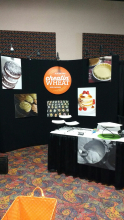 About a week ago, we had a great time at the Colorado Restaurant Association Food Show. We were able to highlight our gluten free chocolate caramel ganache tart that one attendee pronounced, "Super decadently delicious! Melt in your mouth yum!" We also promoted our new layer cake cup flavors which come in four varieties and take the guess work out of a great gluten free dessert. 
This week, we are headed to Vail for the Italco Food Products Fall Soiree. This yearly, two day show is one of our favorite events. We get to talk the chefs, cooks and business owners that use our products, introduce new items, ask how to make their life easier, and remind them that Cheatin' Wheat is the best gluten free brand going.
Now, we need your help. Cheatin' Wheat is a retail gluten free company. Cheatin' Wheat is a wholesale gluten free flour supplier. And Cheatin' Wheat is a co-manufacturer of gluten free goods. Who do you know that needs to know about us? Can you think of a place that should carry our products? What are your favorite gluten free restaurants? Please feel free to pass our name along or send us some helpful information.